Paula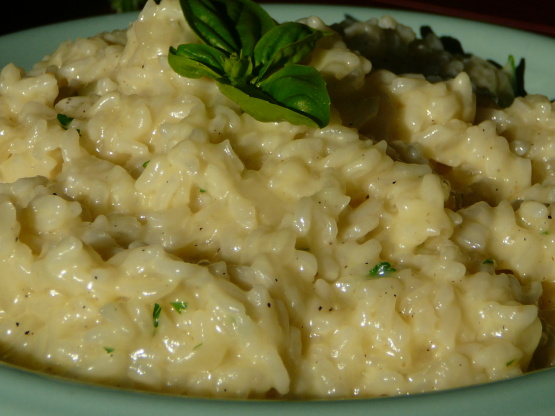 A wonderful accompaniment to any seafood or chicken dish.
This was really good! Like some other reviewers, next time I wouldn't use so much parmesan - it overpowered the lemon. I used all chicken broth with no water and it did take me about 45 minutes over the stove to finish, but totally worth it! Served it with roast chicken and a salad...
Sautee onion in butter until soft.
Stir in lemon zest.
Add rice to onion mixture.
Stir well to coat all grains of rice.
Adjust heat to low-medium.
Add 1/2 cup of broth plus 2 Tbsp lemon juice.
Broth should simmer, reduce and thicken.
Add another 1/2 cup of broth.
Stir until absorbed.
Add another 1/2 cup of broth and repeat process with remainder of broth and then water- 1/2 cup at a time.
If necessary, add more water.
When rice is done (tender but not mushy), remove from heat and stir in parmesan cheese and parsley.
Season with salt, pepper and the remainder of lemon juice.
Serve with grated parmesan on top.