Lemon-Parsley Potatoes With a Parmesan Cheese Crust
lazyme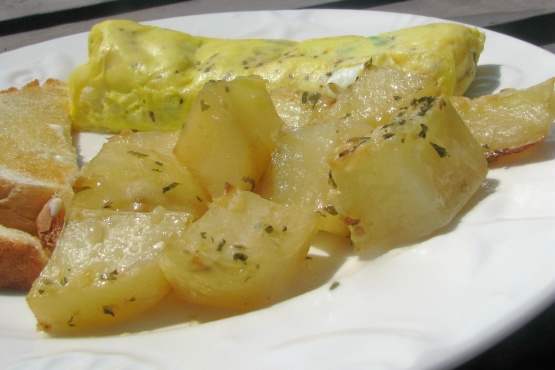 Copycat recipe of a side dish from "My Big Fat Greek Restaurant". From my food blog at: http://www.comfortcookadventures.com/2013/05/meat-and-potatoes-greek-style.html
Fantastic potatoes!!! I made these to go along with a Chicken Souvlaki recipe I was making for dinner and the only changes I made was to scale it back to 1/4 of the recipe and used chicken broth. I loved the parmesan cheese crust, so good!!! This will definitely be a repeat potato recipe for me to make in the future. Thanks for sharing the recipe. Made for New Kids On The Block Tag Game.
Peel the potatoes, cut into 2 inch chunks and soak in cold water for 15 minutes; this will help remove excess starch and allow the potatoes to better absorb the cooking liquid.
Preheat oven to 375F; brush the inside of a 2 quart baking dish with one tablespoon of melted butter. Drain the potatoes and place inside the baking dish. In a small bowl, combine all the remaining ingredients except the Parmesan cheese. Pour over the potatoes, making sure to work the liquid between all the chunks. Cover the dish with aluminum foil and bake for 40 minutes.
Remove the foil; mix the potatoes around and spread the Parmesan cheese evenly over them. Return the dish to the oven and bake for 20-30 minutes; until the potatoes are fork tender. Allow the potatoes to rest inside the baking dish for 10 minutes to let them absorb any remaining liquid.