gemini08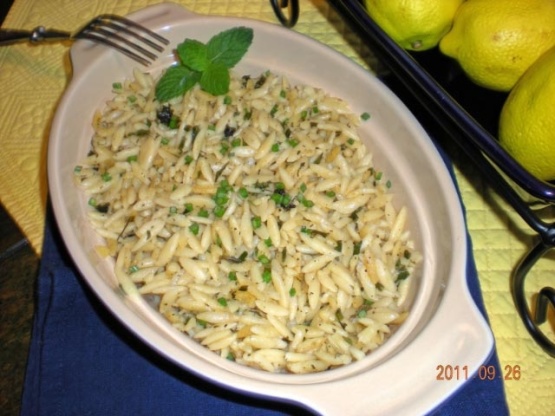 This is a quick and easy but delicious side dish for shrimps, scallops, etc. From the Food Network Magazine.

This was so refreshing, lite and good. I couldn't find Orzo in our little grocery store but did find a pena pasta and used that. Other than that followed exactly and loved this yummy tasting pasta as a side with our dinner. Will be making often and once I find the real orzo in a bigger store using the real thing. Made for PAC Fall 2011
Simmer 1 cup orzo in a saucepan with 2 1/2 cups water.
add olive oil, salt, spices and lemon zest.
simmer, stirring occasionally until orzo is tender, 12 to 15 minutes.
let cool lightly, stir in scallions and the juice of one lemon.