Lemon Layer Cake With Pineapple Filling
Zina B.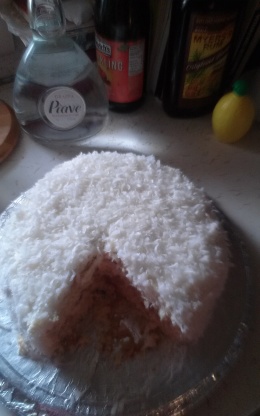 A spectacular cake. More work than the ordinary but a lot can be done the day before. Make it for a special occasion and be prepared for raves.

This cake performed above and beyond the call of duty for me. After having done most of the preparation in advance as suggested, I was less than an hour away from having dinner guests come over and I was getting ready to assemble the cake - all that was left was the frosting. I started to whip the cream, got distracted, walked away from the bowl and my hand mixer fell over taking the bowl with it and 3/4 of the cream spilled out on the counter, leaving me with half a cup of whipped cream to frost a 3 layer cake. I had no time to go to the store and I was not about to give up on a cake I had put so much work into, so I added some softened butter I had on hand, a little half and half, some more powdered sugar and made a glaze out of it, put some of the pineapple filling on the top of the cake and drizzled the glaze between the layers and over the whole cake, topped off with some coconut. It wouldn't have won any blue ribbons for appearance, but it did look like it was an intentional outcome and it tasted really good. Next day we had a church/school barbecue and I crumbled up the half cake I had left over, layered it with whipped cream, lemon curd, coconut, almonds, pineapple and oranges and made kind of a left-over cake trifle. No leftovers now! The only bite I got was the taste I took to make sure it was ok. I had to give this one five stars for holding up so well after a near disaster.
For cake: Position rack in center of oven and preheat to 350°F Butter 3, 8-inch in diameter cake pans. Cut 3 parchment rounds to fit bottoms of pans and butter these too.
Mix sour cream and soda in bowl and let stand 10 minutes.
Sift flour, baking powder and salt in a small bowl.
Cream butter with sugar in a large bowl for 8 minutes, until very light and fluffy. Add yolks, one at a time, beating well after each addition. Beat in juices, zest and sour cream mixture. Mix in dry ingredients in 3 additions.
Beat whites in a medium bowl to soft peaks.
Fold 1/4 of the whites into the cake batter to lighten and then gently fold in remaining whites.
Divide batter among 3 prepared pans. Bake about 30 minutes, or until a tester comes out clean. Cool in pans 5 minutes. Run small, sharp knife around sides to loosen. Turn out and cool completely.
For syrup: Stir icing sugar and juice in small saucepan over low heat until sugar dissolves. Increase heat and bring to boil. Brush syrup over cakes (can be prepared 1 day ahead).
For filling: Mix pineapple and cornstarch in medium saucepan. Add butter, sugar and salt. Stir over medium heat until mixture boils and thickens, about 10 minutes. Cool, cover and refrigerate until well chilled (can be prepared 1 day ahead).
For Lemon Whipped Cream Frosting (about 4 cups): Mince lemon zest with sugar in processor or mini-blender. Whip cream in large bowl to soft peaks. Gradually beat in sugar.
To assemble: Place 1 cake layer, syrup side up, on plate.
Gently spread 1/2 of pineapple filling on top.
Ice with 1/2 cup of frosting.
Top with second layer and repeat.
Top with third layer.
Ice top and sides of cake with remaining frosting.
Press coconut onto sides of cake (can be prepared 8 hours ahead. Cover and refrigerate. Let stand at room temperature 1 hour before serving).