Lemon Garlic Roasted Chicken Thighs
Derf2440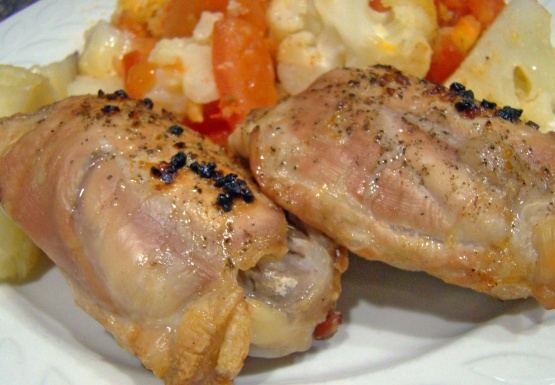 This is a recipe I put together one night with some chicken leg quarters I had - it was such a hit! Super delicious and so easy (not to mention inexpensive!). I have made it many, many times since, for family and friends, and even people who generally "only like breasts" love this. It really works best with meaty bone in thighs, leg quarters, and you can use breasts, but I would leave the skin on!!!!

Oh, my WORD! This was FANTASTIC!!! I used 8 boneless/skinless chicken thighs, used Pampered chef's Lemon Pepper blend and sea salt, juice from 3 lemons (then cut them in quarters and tucked them throughout the chicken in my 9x13 glass pan - I skipped the zest part), minced 4 garlic cloves, thinly sliced 1/4 stick of butter throughout (instead of olive oil), and baked as directed for 45 minutes (turning halfway in between). I served them with yummy mashed potatoes, green beans, and french bread. The whole family LOVED it! This will be part of my monthly meal rotation. So easy!!!
Spray a deep baking dish, or roaster with non stick spray.
Combine 1 TBS of olive oil, the juice and zest of both lemons, plus the additional lemon juice, and the 4 cloves of garlic minced in a small bowl.
Place the chicken in the roasting pan.
Sprinkle liberally with the Lemon Pepper Salt.
Pour the lemon mixture over all- you can throw the lemon rinds into the baking dish too.
Bake at 400 for about 45 minutes to an hour, turning the chicken over halfway through baking.
I sometimes make this, and seal it in a ziplock bag in the freezer, then when you are ready, thaw, dump in the roaster and bake- just adding the lemon pepper salt.
My family likes this when I take the sauce from the chicken, combine it with a small amount of half and half and serve it over pasta.