Boomette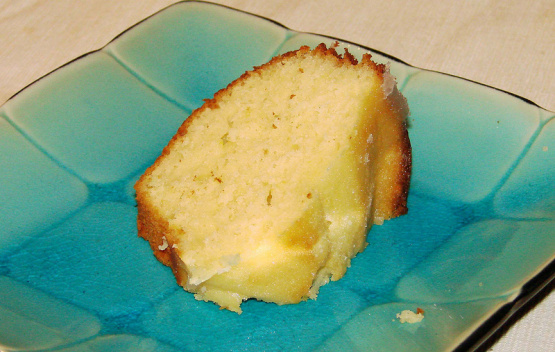 A lemon cake made moist and rich with cream cheese and a lemon joice glaze. It's from an old Pillsbury cookbook.

Can't believe I haven't reviewed this cake yet, I've made it at least 3 times! Delicious! Like a couple of others, I slightly lowered the sugar content. I also double the glaze, I just can't get enough of it! So delish!
Preheat oven to 350 degrees.
In large mixing bowl, blend cream cheese and shortening until creamy.
Beat in 1 1/4 cup sugar until light and fluffy.
Add eggs, one at a time, beating well after each.
Add lemon peel, flour, baking powder, salt and milk.
Blend at low speed just until thoroughly blended, scraping bowl occasionally.
Pour batter into generously greased 10-inch Bundt or tube pan.
Bake 45-50 minutes .
Combine lemon joice and 1/3 cup sugar.
Pour over hot cake, allowing it to run down edges between cake and pan.
Cool 30 minutes, then remove cake from pan.
If desired, sprinkle with powdered sugar.