Boomette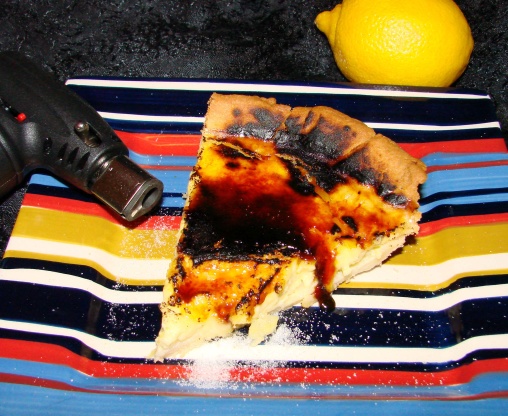 Lemon Crème Brulee Tart Recipe from Christopher Mangless, The Traveling Chef. This is such a great sweet dessert. Plus, you get to use a torch. How cool is that?
The crust is yummy. But it's easy to broke. For the filling, I used only 1/2 cup of splenda instead of sugar. The taste of the filling is so good and creamy. I used my torch only on one serving. And even though we love creme brulee and lemon pie, it's weird eating it "brulee". We prefer it like that, and no "brulee". Thanks Jess. Made for Please Review My Recipe
Crust Method:.
Combine flour, sugar, and salt in processor, blend for 10 seconds. Pulse in butter until combined. Pulse while adding the heavy cream 1 teaspoon at a time, until moist dough clumps form. Remove dough from processor and form into a flatten disk. Wrap and chill for 1 hour.
Preheat oven to 350°F Roll out dough on a floured surface to fit a 12-inch tart pan. Press dough to fit pan using excess dough for the sides. Poke crust with fork to keep crust from rising. Bake crust until golden brown, approximately 16 minutes. Remove crust from oven and brush the inside immediately with egg white. Reserve.
Filling Method:.
Whisk ¾ cup sugar, cream, yolks, and eggs in bowl to blend well. Mix in lemon juice and lemon zest. Pour filling into warm crust. Bake until filling is set in center, approximately 20 minutes. Remove from oven and cool completely.
Cover edge of crust with foil to prevent from burning. Sprinkle remaining sugar on top of tart. Using a brulee torch, melt sugar until caramelized. Allow topping to crisp before serving. Serve with fresh berries and crème fraiche, if desired.