Lebanese Rose Drink (Sharab Ward)
awalde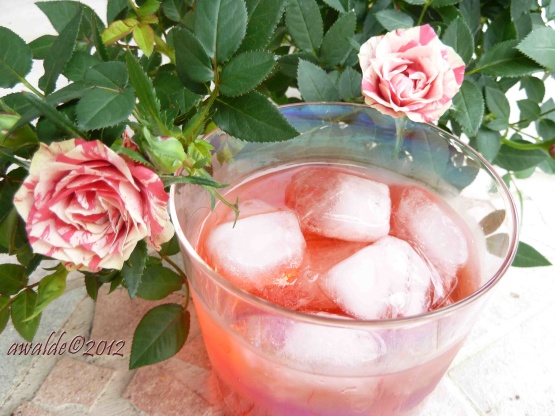 A delicious pink drink that is probably enjoyed around the region. From the Lebanon/Syria/Jordan (& Palestinian) section of The Complete Middle East Cookbook By Tess Mallos.

I love to make lemonade with rose water, so I knew this would be great, since it is similar. This smelled terrific while it was reducing. I used 3 tbsp of the syrup concentrate for a 12-oz glass w/ ice water. So refreshing and so pretty with a slice of lemon in it. Thanx for sharing!
Put sugar and water into a pan and stir over medium heat until dissolved.
Bring to a boil and add lemon juice.
Boil without stirring, for 10 minutes, skimming when necessary.
Add colouring to syrup to achieve a deep pink - it will be lighter when diluted later.
Add rose water and boil 3 minutes longer. Remove from heat, cool, bottle and seal.
To serve, put 2-3 tbs syrup or to taste, in a glass (I use more but maybe my glasses are big) then fill with iced water.