Rita1652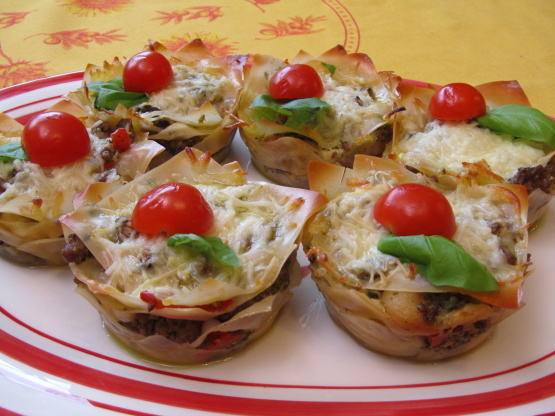 I love these. You can make them fancy for your next dinner party or simple for the kids. They are so fun to do and great to make a day or so ahead. You can use any fillings you like. I prefer hamburger meat but you could use anything from spinach to sausage. I haven't had luck in finding round wonton wrappers to I cut the square ones and then line my cupcake pan. When you are done layering you can pipe ricotta on top to make it look like a real cupcake....I don't do that and found it is just as good.

These are super cute! Great finger food, left overs are great to pack in a lunch. I made these using a large 6 cupcake tin. Not the 12 size one. I used 6 layers of wontons per cupcake that making 36 wontons. Not the 8 as the recipe states. I used half the beef adding minced peppers, mushrooms, onions and roasted garlic. Added pesto to the mixture skipping the red sauce. To the cheeses I added 1 egg, parsley, and black pepper. Quick to put together and very filling. Posted this Recipe #444040 a take off of this recipe. I will be making these on March 20, 2011 at 8:00 on the cooking Channel.
Preheat oven to 375 degrees F.
To start the lasagnas: Cook hamburger meat, season to taste, drain.
Reserve 8 tablespoons of Parmesan and 8 tablespoons of mozzarella—this will be the topping. The remaining cheese will be used in the lasagnas (note you can vary the amount of cheese to taste keeping in mind that the parmesan is salty, the mozzarella is sweet as well as salty and helps to hold the lasagnas together, and the ricotta is sweet and creamy).
Start assembling the lasagnas. Line each cupcake mold with a round wonton wrapper. Put a little Parmesan, a little mozzarella, and a little ricotta into each mold. Top with a little meat and a spoonful of sauce. Repeat layers of wonton wrappers, cheeses, meat and sauce, creating 6 layers in all, and ending with sauce. Sprinkle each lasagna with reserved Parmesan and mozzarella.
Bake until the lasagnas are nicely browned, about 20 minutes. Serve warm garnished with cherry tomatoes and basil leaves.