Lapin a La Cocotte - French Rabbit Stew
IngridH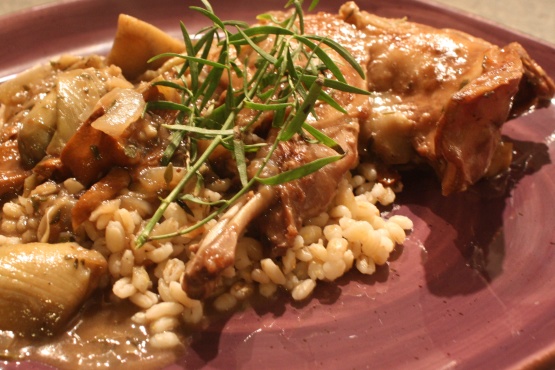 Rabbit is truly delicious and very lean - yet rich-tasting. This is a delicious preparation with bacon and red wine and tastes best with mashed potatoes or buttery egg noodles. It doesn't take long to prepare, but long slow cooking does make it even better.

This is the first time I have cooked rabbit, and it turned out very well. The meat was tender, and the liquid had lots of flavor. I added some chervil and tarragon, as well as some chanterelle mushrooms and artichoke hearts for extra vegetables. Overall, a nice, easy dish that tastes good on a cold, wet evening. This would also be very good with chicken thighs.
In a large skillet or medium-sized Dutch oven, cook bacon until done; remove bacon with a slotted spoon and reserve for another use (for a salad, etc).
In the bacon drippings, cook the onion and garlic until transparent. A.
dd the rabbit pieces and saute over medium heat until rabbit is golden.
Sprinkle on the flour and continue to brown rabbit for another 5 minutes or so, then add the beef broth, red wine, thyme, parsley and bay leaves.
Cover and simmer over low heat for about an hour, adding more broth if necessary. Salt and pepper to taste (with the bacon drippings, not much salt is needed). Serve with mashed potatoes or buttered egg noodles.