loof751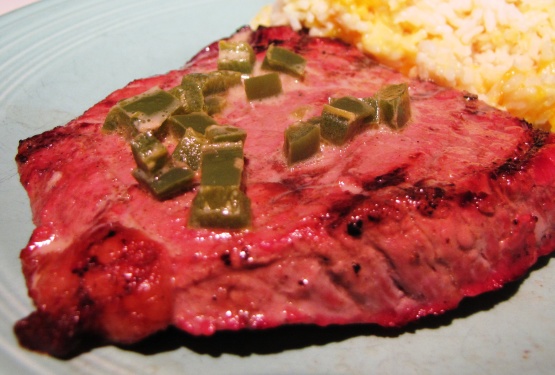 From an issue of Chile Pepper magazine, a long while back. Pan seared steaks with a delectable creamy jalapeno gravy.
Heat olive oil and 2 tablespoons of butter in a heavy skillet. Brown the steaks on both sides. Reduce the heat and cook gently until they are medium rare or desired doneness. Remove from the pan and keep warm.
Pour off the fat only. Add the remaining butter to the remaining pan juices.
Add the onion and chopped jalapenos and simmer, stirring constantly until softened.
Add the red wine, bring to a boil and deglaze the pan, scraping up any browned bits.
Add the black pepper, stock, and cream and bring to a boil. Reduce the heat and simmer until the sauce is smooth and thick.
Place the steaks on a plate, pour the sauce over top, and garnish with jalapeno slivers and cilantro.