Rita1652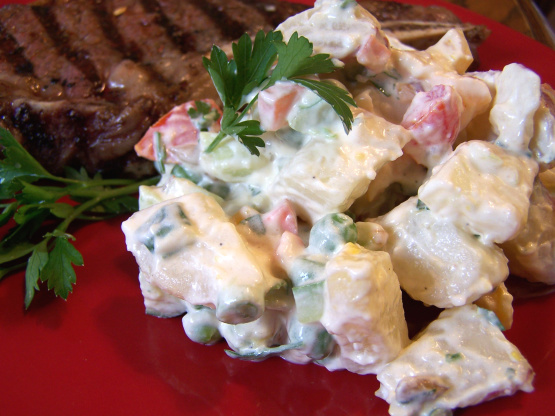 From The New Moosewood Cookbook which was first published in the late 1970s. This is the most amazing & delicious potato salad I've ever eaten, worth the price of the cookbook for this dish alone. Easily makes a full meal. Cooking time is actually minimum chilling time. UPDATE: If you're just looking for a traditional potatoes-boiled eggs-mayo salad, this is not the one for you.

I enjoyed this creamy salad with potatoes! I used a yellow bell pepper only sunflower seeds skipped the sprouts and optional radish But did use 1 carrot, coarsely chopped, chopped celery, and raw frozen peas. And did not use the optional fresh spinach, olives,or lemon wedges. Thanks for the Comfort Goodness!
6

medium potatoes, unpeeled, boiled in skins, diced

2

hard-boiled eggs, chopped

2

medium tomatoes, diced

1

chopped sweet pepper, chopped

2

scallions, minced

1

cucumber, chopped
chopped fresh parsley

118.29

ml toasted cashews

59.14

ml mixed roasted sunflower seeds or 59.14 ml sesame seeds
carrot, coarsely grated (optional)
chopped celery (optional)
radish (optional)
raw fresh peas (optional)

177.44

ml mayonnaise

4.92-9.85

ml salt and pepper, to taste

0.25

ml tamari

118.29

ml cider vinegar

2.46

ml dry mustard

2.46

ml tarragon

4.92

ml prepared horseradish
fresh spinach (optional)
olive (optional)
lemon wedge (optional)
Combine potatoes through peas.
Combine mayonnaise through horseradish and toss with potatoes mixture.
Chill.
If desired, serve on a bed of spinach garnished with olives and lemon wedges.