Veghead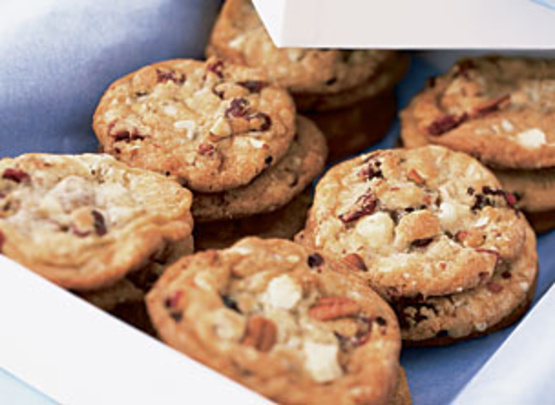 From the Yahoo Food website. Studded with chocolate, nuts and dried fruit, these festive drop cookies are sure to be a hit at the holidays. Variations: Prepare as directed, replacing 6 of the white chocolate squares with 6 squares semi-sweet baking chocolate. Or, substitute chopped walnuts or slivered almonds for the pecans; or chopped dried apricots or mixed dried fruit bits for the dried cranberries.

These turned out good, but I was expecting more flavor considering the amount of mix-ins the recipe called for. They looked great and had a really nice texture, but I would add some cinnamon or orange zest next time. Thanks for posting the recipe.
Preheat oven to 375 degrees F. Beat butter and sugars in large bowl with electric mixer on medium speed until light and fluffy. Blend in eggs and vanilla. Add flour, baking soda and salt; mix well. Stir in chocolate, pecans and cranberries.
Drop dough by rounded tablespoonfuls, 1-1/2 inches apart, onto ungreased baking sheets.
Bake 9 to 11 minute or until lightly browned. Cool 3 min.; remove to wire racks. Cool completely. Store in tightly covered container at room temperature.