Kraft's Deluxe Macaroni and Cheese
Leslie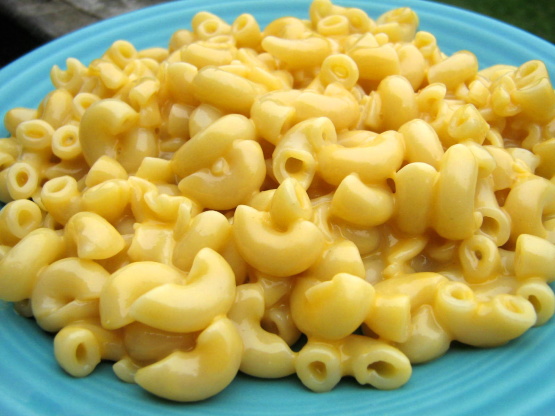 I found this on a different web site and thought I would bring it here. This really does taste like Kraft's deluxe mac and cheese

Keeper ! The best ever and I even left out the salt. I used whole wheat pasta and skim milk and this is great stuff. Thanks for sharing your recipe.
Bring 8 cups water to a boil in a large sauce pan. Add elbow macaroni to water cook 10 minutes or till tender stirring a few times.
A,s macaroni boils prepare sauce by combining cheddar cheese, Cheez Whiz and milk in small sauce pan over medium low heat. Stir cheese mixture often so it doesn't burn.
Add salt when all cheddar cheese has melted and sauce is smooth. Cover pan and set aside until macaroni is ready.
When macaroni is ready, strain macaroni but do not rinse.
Combine macaroni and cheese sauce; mix well.