sozodjd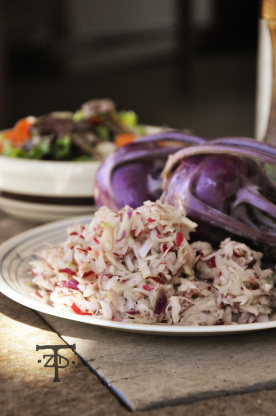 A nice salad that would go well with fish. Adapted from a recipe found at epicurious.com. Cook time is chill time.

This is a wonderful summer salad! Served it for dinner last night along side Recipe #33312 My partner actually went back for seconds. I haven't had kohlrabi since I was a kid, when we would eat them like apples. The taste is a cross between potato, radish and turnip. I used a daikon radish for it's mild flavor. The shredding blade on my Cuisinart made processing the veggies very easy. I let them marinate in the fridge for about an hour while I finished dinner. Thanks for sharing!
Peel two small kohlrabi.
Shred the kohlrabi and radishes. You may use a food processor for this. I hand grate using a cheese grater.
Mix 1 Tablespoon vinegar, 1 teaspoon sugar, and 2 tablespoons fresh chopped parsley in a glass bowl. Whisk in 2 Tablespoons olive oil.
Add shredded veggies and toss.
Chill for 30 minutes or more.