Marie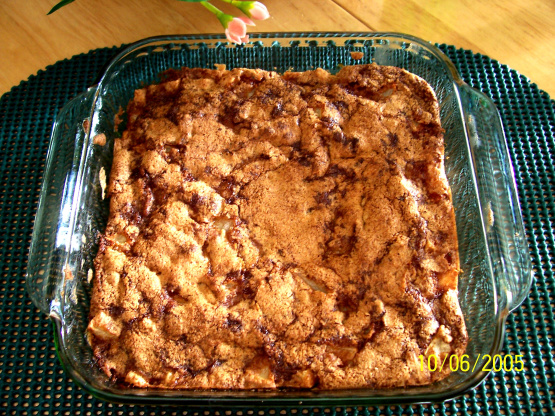 This is like an apple pie cake. When you bite into it, you definitely taste a lot of apple. It is fabulous and even better with a scoop of vanilla ice cream.

Top Review by AVHS63
The smell of this cake cooking is heavenly, so I wasn't surprised to taste that first delicious bite. The crunchy edges are the best part! I used pecans and a bit more cinnamon. And of course a scoop of vanilla ice cream. The apples need to be peeled and I recommend cutting them in 1/3" squares. I'd give this recipe 10 stars if I could. It's a keeper!
Cream together sugar and butter.
Add beaten egg and mix well.
Add diced apples, chopped nuts and vanilla.
Sift together flour, baking soda, salt, cinnamon and nutmeg and stir into mixture.
Place batter into 8" square greased pan.
Bake at 350° for 35 to 40 minutes.