Kittencal's Slice N' Bake Refrigerator Cookies
Almond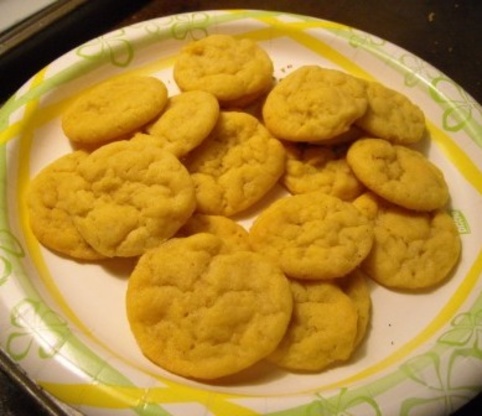 This is buttery tender dough that produces an excellent flavored and textured cookie --- servings is only estimated it will depend on how thick you slice the dough, I get about 12-15 cookies per roll if sliced just over a 1/4-inch thick, you may of coarse slice them thinner or thicker if desired and adjust baking time slightly --- plan ahead the dough needs to chill for about 4 or more hours or until very firm and may be frozen for up to 3 months.

Top Review by Almond
These are delectable! A delicate, vanilla flavor that reminded me of Pillsbury sugar cookies (which are my favorite!). The dough is also very easy to work with. I doubled the recipe, froze the dough, then rolled it into logs. I sliced some of the dough as directed; but I also rolled some of it into balls & the cookies also turned out lovely. This will be my stand-by cookie recipe! Thanks Kittencal! :)
In a mixing bowl cream the butter with sugar for about 3 minutes.
Add in egg yolk and both extracts; beat until no sugar granules remain.
Beat in vanilla pudding mix until combined.
In a small bowl combine the flour with baking soda and salt; add to the creamed mixture and beat until combined (the mixture will be dry and slightly crumbly).
Remove the dough to a surface and gently knead the dough until it comes together (this will take only a few seconds).
Roll into one large log or two smaller logs.
Wrap in plastic wrap and refrigerate until hard (about 4 or more hours).
Set oven to 350 degrees F.
Slice into slightly over 1/4-inch thickness (you may coat the slices in sugar if desired).
Place onto a greased baking sheet/s.
Bake for about 8 minutes or until light golden brown.
Allow to sit and harden slightly in the pan before removing (the cookies will harden upon sitting in the pan).