Kittencal's Juicy Hamburger/Burger
Redsie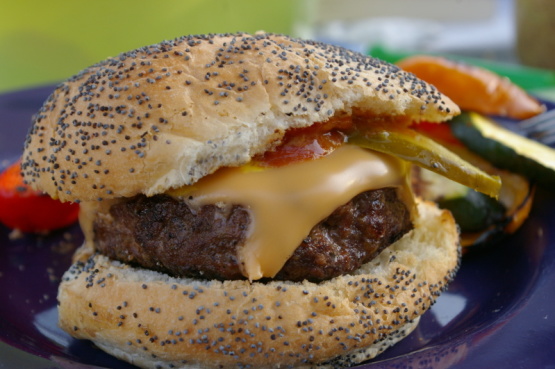 We all have our different tastes for burgers I like mine flavorful and juicy this recipe will give you the best of both! see the bottom of the recipe for tips on even more extra juicy burgers! --- making a indentation in the middle of the uncooked burger will prevent the burgers from puffing up into meatballs shapes while cooking and keeps them flat --- do not add any salt into the burger mixture as the dry onion soup already has a lot of salt content, you can sprinkle some on towards the end of cooking if needed, if desired you may add in 3-4 tablespoons of your favorite barbecue sauce to the ground beef mixture

I used to despise homemade hamburgers. Not anymore. I knew I could count on this recipe to change my mind. My husband said they were of restaurant quality. Topped them with pepperjack cheese and the usual toppings. Soooo good! I will always come back to this recipe when looking to make perfect burgers. Thanks again for another wonderful recipe!
2

lbs ground beef

1

egg, slightly beaten

0.5

(1 ounce) envelope dry onion soup mix (can use the whole package if desired)

2

tablespoons fresh minced garlic (or use 1 teaspoon garlic powder)
1⁄4 cup dry breadcrumbs (or crushed soda cracker crumbs, more if needed) (optional)

1

tablespoon Worcestershire sauce

1

teaspoon fresh ground black pepper

1 -2

tablespoon Frank's red hot sauce (or 1-2 teaspoons crushed chili flakes, or can adjust to heat level) (optional)
In a bowl crumble the ground beef with clean hands.
Add in the dry soup mix, egg, garlic, breadcrumbs or crushed soda cracker crumbs, Worcestershire sauce, black pepper and hot sauce (if using).
Using clean hands mix until combined, add in more breadcrumbs or cracker crumbs if needed to just hold the mixture together (do not overwork the meat or it will be tough).
Divide the ground beef into 6 equal patties (or make 8 small patties).
Using your large finger or the back of a small spoon make a shallow dent into the center of each patty (about 1-inch wide).
Place the patties onto a large plate or a small cookie sheet; cover with plastic wrap and refrigerate for a minimum of 6 hours or up to 24 hours to blend flavors.
Grill or pan fry the burgers as desired until cooked through (if desired sprinkle a small amount of seasoned salt on top while cooking the patties).
Serve burgers in toasted buns with choice of condiments.
TIPS FOR EXTRA JUICINESS; shape the hamburger into a ball, press 1 tablespoon cold butter into the middle then seal the meat around the ball then flatten into burger shapes ----or add in 2-4 tablespoons raw finely grated potato into the hamburger mixture then shape into patties, use no more than 4 tablespoons for 2 pounds of ground beef or the burgers will take on a meatloaf texture.