Kittencal's Foil-Wrapped Grilled Corn
MsSally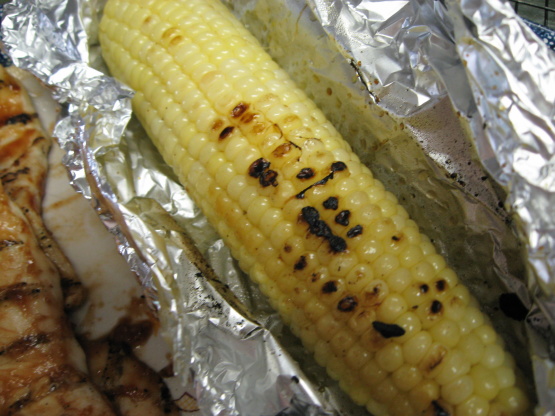 You may adjust all amounts to suit taste, I like to use seasoned salt for this but white salt will do fine -- to kick this up a notch, in a small saucepan or microwave melt 1/2 cup butter, mix in 1 tablespoon mustard, 1 teaspoon Worcestershire sauce, 1/4 teaspoon lemon pepper and 2-3 teaspoons horseradish, brush on the corn then wrap in foil and grill as stated :)

Wow! This corn was incredible. Another delicious recipe from Kittencal. I can always count on your recipes being delicious. This corn was so easy to make, it was so sweet and had the best flavor. It was probably the best corn I've eaten. I tried making roasted corn in the husk on the grill a few weeks ago and that was a disaster, it wouldn't cook, kept catching on fire and was still raw after cooking for about 45 minutes. I will definitely be making this recipe again and again. Thank you, Kittencal.
Place each corn on top of one piece the heavy-duty foil.
Brush each ear generously with soft butter.
Season lightly with seasoned salt or white salt and black pepper.
Wrap the corn then seal the foil loosely but leave room for expansion, then cut a very small hole in the foil to allow steam to escape.
Grill over medium coals for about 15-20 minutes (the larger ears may take a little longer).
Unwrap very carefully and serve.
Delicious!