Kittencal's Fluffiest Scrambled Eggs
Ashley Cuoco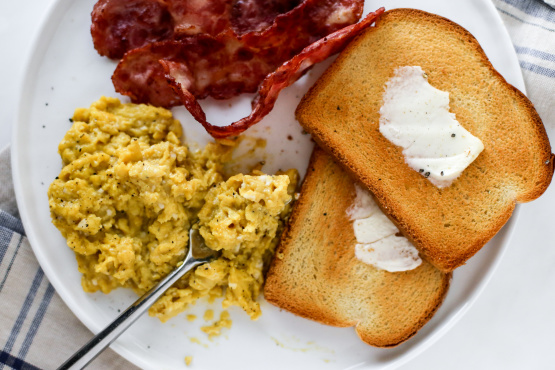 Once you make these eggs you will *never* go back to your old way again, this is the way the higher end restaurants prepare their eggs ----for six eggs you may increase the milk by 1 tablespoon, do not add in more than 1/4 teaspoon baking powder --- if you are not afraid of some extra calories for 4 eggs use 2 tablespoons whipping cream in place of low-fat milk :)

I made these with diced Smoked Ham and Aged Garlic White Cheddar. I cut the salt in half because the ham was salty. The eggs were giant and fluffy, which was delightful, and tasted great, though the ham made them slightly watery. You cannot taste the baking powder at all. DH loved them and suggested we try them several ways, perhaps with sausage or with fried country potatoes & parsley flakes stirred in like my Mom makes.

For those having trouble, I think the key here is that you MUST whisk the eggs quite a lot to get air into them (I like to zap them in a blender or food processor for 30 seconds if I'm making a larger batch), then you MUST let the whisked eggs rest 5-7 minutes in order for the baking powder to begin to take effect. Then the butter must be hot enough (sizzling) to finish activating the baking powder. I realize Kit's instructions are very clear on this, but I have made these so many times that I don't look at the recipe anymore, and if I forget even one of these important steps, I just get ordinary, dry, crumbly eggs. Also, I find that adding the cheese before the eggs are cooked leaves them runny, so I like to cook the eggs until they are about 30 seconds from done, then fold in the cheese and remove from heat.
2

teaspoons butter (or to taste, can omit and use vegetable spray, the butter is better)

4

large eggs

2

tablespoons milk (low fat milk is okay to use)
1⁄8 teaspoon baking powder (don't be shy to add in even 1/4 teaspoon)
1⁄4-1⁄2 teaspoon salt (or to taste)
1⁄2 cup grated low-fat cheddar cheese (optional)
In a bowl whisk the eggs vigorously with milk, baking powder, salt and black pepper until very well combined; let stand at room temperature for 5-7 minutes.
Heat butter until sizzling over medium-high heat in a large skillet (or spray the skillet with vegetable spray).
Whisk eggs again briefly then mix in the cheese (if using).
Pour into the hot skillet, stirring constantly with a small heat-proof spatula until they have reached desired consistency (DO not overcook the eggs, they will cook more when removed to a plate!).