Kiki's Chicken and Bean Enchiladas
lazyme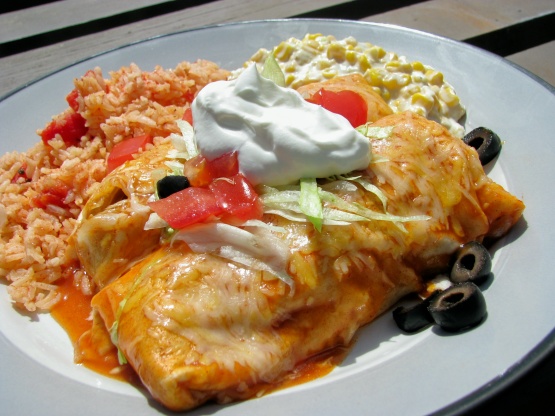 This recipe appeared in our local newspaper, from the Supper Swap girls at GreenvilleOnlin.com. It's very important to first dip the tortillas in the sauce BEFORE assembling them.

The only change is instead of using chopped tomato I use tomato sauce and chicken broth, I just buy a can of premade enchilada sauce. It saves time, and the flavor is a bit bolder. I also mix some of the sauce in with the chicken, bean, and cheese mixture. I loved the sauce and made it again added a little parmesan cheese and served it to guests as a low fat tomato alfredo sauce. This one is a keeper. Excellent!<br/> Thank You ! Made for Went To The Market tag game - Spring 2013
Pour 1/4 of the enchilada sauce into a shallow bowl. One at a time, dip a tortilla in the sauce, making sure each side is wet. Transfer to a plate and fill the center of each tortilla with a handful of chicken and then 3 tablespoons of beans. Sprinkle with some cheese and roll up. Lay the tortilla seam side down in a shallow baking pan. Repeat the process until all eight are in the pan. Pour the remaining enchilada sauce over the rolled tortillas and then sprinkle with the remaining cheese. Bake at 350 for 20 minutes or until the cheese melts.
Garnish with lettuce, tomatoes, olives and sour cream and serve.