Kickin' Ranch Pasta With Meatballs #RSC
Becky Lo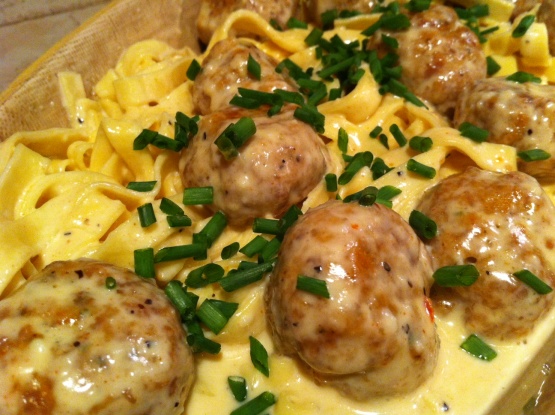 Ready, Set, Cook! Hidden Valley Contest Entry I love this recipe because it is family friendly, plus kids love pasta and meatballs. I also love Italian food and using Ranch in my recipe kicked it up a notch. I created this recipe for my family to enjoy. *Tip, powdered Parmesan works best for this recipe because it melts better in the sauce.

I tried this flavorful recipe! This recipe was very easy to follow, the ingredients were easy to find and fairly inexpensive. The sauce was very creamy and flavorful, love the ranch flavors going on. The meatballs were moist and yummy!! Such an easy one dish meal you could easily add broccolli or some peppers to this dish or serve with a garden salad!! Love it!
Mix together the ground pork, 1/4 cup of the Parmesan cheese, bread crumbs, greek yogurt, egg, half of the Hidden Valley Original Ranch dressing/seasoning mix, half of the Hidden Valley Ranch Fiesta dip mix, pepper and salt with hands.
Roll into approximately thirty 1 1/2 inch diameter meatballs.
Place on 11x16 greased baking sheet and place into preheated oven at 350 degrees for approximately 20 to 25 minutes or until internal temperature reaches 165 degrees.
While meatballs are cooking, cook and drain noodles according to package;
In a large skillet heat margarine, whipping cream, the remaining Hidden Valley Original Ranch dressing/seasoning mix, the remaining Fiesta Ranch Dip Mix, and pepper on medium heat until slightly thickened. ( Approximately 7 to 8 minutes. Do not boil. )
Add remaining Parmesan cheese and continue to cook 2 to 3 minutes until cheese is melted.
Place cooked meatballs in skillet and coat with sauce.
Place fettuccine in serving bowl. Pour sauce and meatballs over fettuccine. Sprinkle chives over dish.