mliss29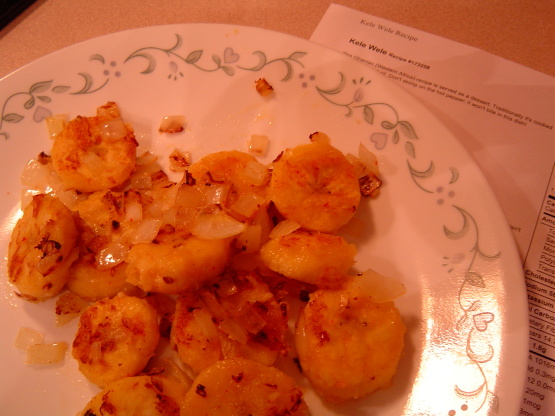 This Ghanian (Western Africa) recipe is served as a dessert. Traditionally it's cooked in masses of hot oil. Don't skimp on the hot pepper; it won't bite in this dish!

Wow! This was really good! I usually do skimp on hot pepper but decided to trust, and it was great. Just right, really. I've never prepared plantains before, so I tasted it before cooking it. Can't say I'd recommend that! lol. Tasted like a bland sweet potato. But it sweetened up with the cooking and all the other flavors were so nice together with it. Thanks! Reviewed for Healthy Choices ABC tag.
Mix together the red pepper, salt, ginger, minced garlic, chopped onion and 1 tablespoon of the oil in a small bowl.
Peel the plantains and cut on the diagonal into 1/2 inch thick pieces. Place in a large bowl; add the spices and mix well to coat the plantains. If desired, place in the refrigerator for a couple of hours to help develop the flavors.
Heat some of the remaining oil in a large, heavy non-stick skillet over medium-high heat. When hot, add plantains in a single layer. Sauté until browned, turn over and brown other side. Repeat until all the plantains are cooked.