COOKGIRl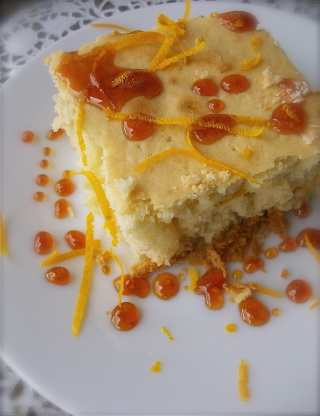 In Greek keik is pronounced: cake. Similar to a pound cake, this is a simple cake with a touch of orange flavor. It can be embellished with chocolate, nuts, raisins, or other additions to your taste, but this is the basic recipe.

Very easy to make. I added one half tablespoon of orange blossom water but I think a full tablespoon would have been better. A pinch or two of cinnamon might kick it up a notch in the flavor department, too. Two tablespoons cognac and had this prepped and baked in less than 1 hour. Reviewed for ZWT 6.
Preheat oven to 350F (180C).
Whisk together dry ingredients (flour, sugar, baking powder) to combine well.
In a mixing bowl, combine orange peel, brandy, and softened butter.
Beat until smooth. Continuing to beat, add milk slowly, and then eggs. Slowly beat in the flour mixture and continue to beat for 3 minutes at medium-high speed until the batter is smooth.
Pour into two lightly buttered loaf pans (or equivalent) and bake at 350F (180C) for 45 minutes or until a knife inserted in the middle comes out clean.