Rita1652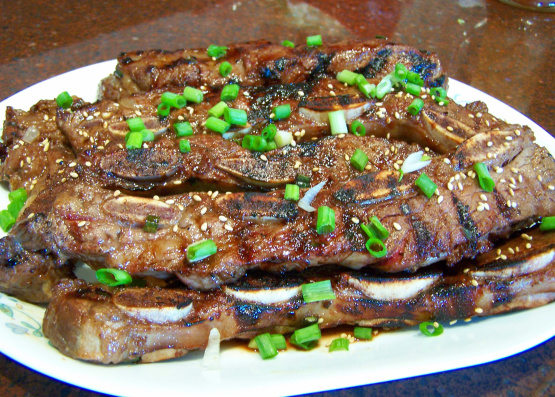 Korean Barbecue Short Ribs. Otherwise known as 'galbi', 'kelbi' and even 'kalby'. I used only honey skipping the white sugar that is normally used. But you can add white sugar (in addition to the honey) if you are not watching the 1/4 cup sugar intake.

These Korean short ribs were really tasty! I had about 1.25 lbs of ribs, so I just halved all of the marinade ingredients, which worked well. I had to sub 100% apple juice for apple cider as that is what I had on hand. We marinated the meat for almost 12 hours. It was very tender and delicious. I can't imagine adding another 1/4 cup of sugar, so I think you were right on to just use the honey. It was plenty sweet for us (without being overly so). We served with grilled zucchini. Thanks for an easy, enjoyable meal! Made for ZWT6.
Combine all sauce ingredients. Dip each piece of meat in the sauce.
and layer in a flat dish or pan. Pour more marinade on top. Marinate.
4-12 hours.
Preheat grill to medium-high heat.
Remove short ribs from marinade pat dry and discard marinade.
Grill short ribs until slightly charred and tender and cooked to desired degree of doneness.
Garnish with the sesame seeds and additional scallions if desired.