Julia Child's Baked Cucumbers With All Variations
Zurie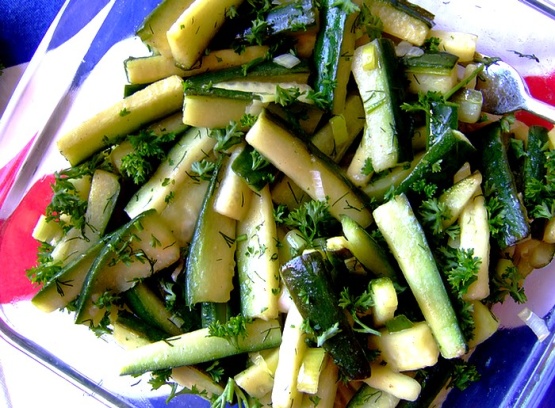 This recipe comes from Mastering the Art of French Cooking, 1961. 'If the natural moisture content is now withdrawn beforehand, cucumbers exude so much water as they are heated that you usually end up with a tasteless mush and swear never to cook cucumbers again. Blanching for 5 minutes before cooking will remove unwanted water, but also most of the cucumber flavor. A preliminary sojourn in salt draws out the water and also the bitterness, if they are the bitter European type, yet leaves the flavor, which a little vinegar and salt accentuates. We have found the following method delicious, and suggest it for all cooked cucumber recipes. Baked cucumbers go with roast, broiled, or sauteed chicken or veal.

Top Review by Zurie
Dear old Julia, at last a recipe with cucumbers which is not a salad! As this is a 1961 recipe, I had to tweak a little. I used the long English cucumber which needs no peeling (and with tiny, soft seeds). This was not available in 1961. It also looks more appetizing with the skin on. I used apple cider vinegar, and about 1/2 tablespoon sugar to counteract the acidity. As she gives no baking time, I baked (and stirred a few times) at 350 deg F/180 deg C. I have a fan-convection oven which is really hot, so after 20 mins. the julienned cukes were sizzling in the butter, colour intensified but unchanged, and I took them out. Due to time constraints they were made in the early afternoon, and warmed up again at night for dinner, (which was tomatoey chicken stew with potatoes, S A stewed green beans and a large mixed salad). I chose the herby variation -- with dill, parsley and some chopped spring onions. The fact that the cucumber strips held their shape, didn't shed any more water, and was officially a hot veggie, was quite a surprise!! Not haute cuisine, but a pleasant alternative to the usual veggies. I'll make this again, and I thank you wholeheartedly for posting this recipe!!! As the stars say, we loved it! REVIEW UPDATED, MARCH 6, 2008: What a standby this proves to be!! I was short of fresh veggies tonight and most of the time I cook from scratch. But I had a large English cucumber. I used this recipe again, as I also needed to bake chicken pieces in the oven. I flavoured with sweet, chopped onion, garlic chives, Maldon salt and quite a lot of coarse black pepper, and used olive oil. As delicious as always -- I had to explain to husband what it was! He's so used to cukes only used in salad! I did not have time to let the cucumber shed liquid, but it was NOT liquidy at all and baked beautifully. Thanks, it's lovely!! Great standby when you are short of other fresh vegetables! UPDATED AGAIN: Another thank you for a reliable recipe which, in the sticks where I live (a small quiet coastal village) has been made yet again. Tonight I did not have time for long marinating -- maybe 30 mins. -- and as said, the baking time is short. This is an area where more exotic fresh veggies are sometimes in short supply, but there are always English cucumbers!! :)
Peel the cucumbers.
Cut in half lengthwise and scoop out the seeds with a spoon.
Cut into lengthwise strips about 3/8 inch wide.
Cut strips into 2 inch pieces.
Toss the cucumber in a bow with the vinegar, salt and sugar.
Let stand for 30 minutes to several hours.
Drain and pat dry in a towel.
Preheat oven to 375.
Toss the cucumbers in a baking dish with the butter, herbs, scallions and pepper.
Set uncovered in the middle level of the preheated oven for about an hour, tossing 2-3 times, until cucumbers are tender, but still have a suggestion of crispiness and texture. They will barely color during cooking.
Variation One: Parslied Cucumbers.
In a warm vegetable dish toss with 2 Tbsp minced parsley.
Variation Two: Creamed Cucumbers.
Boil 1 cup whipping cream until it has reduced by half. Season with salt and pepper, fold into the hot baked cucumbers, sprinkle with parsley and serve.