lazyme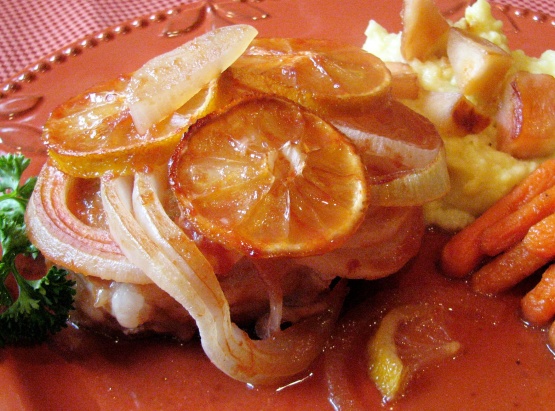 It tastes like a barbecue sauce pork chops. Serve with rice.

The flavors of this dish are excellent, I enjoyed the lemon and onion flavor, you do need to salt and pepper each pork chop however which isn't mentioned in the recipe. I made this dish last night and mine came out very dry and we wound up throwing them away and ordering pizza. My pork chops were bone in and about three quarters of an inch thick, I think an hour and a half is too long and dries the pork out, but most pork chop recipes say to cook them for such a long time? I'm at a loss, I'm a pretty good cook but can't seem to find a good pork chop recipe that makes them tender and juicy.
Place each pork chop in a baking dish.
Top with onions and lemon slices on each.
Mix together rest of ingredients and spread on each chop.
Cover and bake on a 350* oven for 1 1/2 hour.
Remove foil for last 15 minutes.