Joel's Jerk Chicken Pineapple Pasta
Nif_H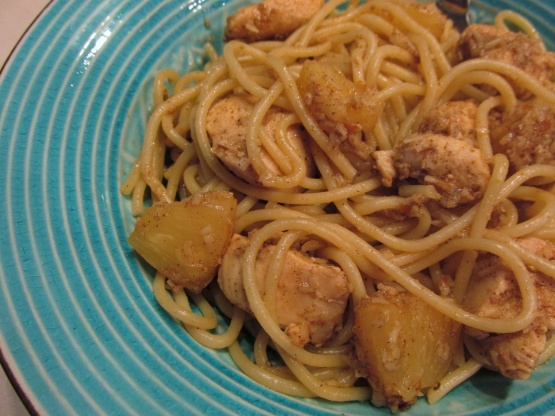 Sarah S. says, "My genius husband came up with this quick and spicy concoction. It has become one of my favorite meals!"

Top Review by Nif_H
I only used half the jerk seasoning and this was plenty hot enough for us! Lots of flavour and a nice kick, this was enjoyed by all of us. I doubled the recipe for 4 of us and used some leftover spaghetti instead of fettucine. The one recommendation I would give is to add some red pepper or something else for some colour as it is all beige. Made for my fellow Tasty Tester. Thanks ElizabethKnicely! :)
Heat olive oil in a skillet over medium heat. Cook and stir chicken until no longer pink and juices run clear, 7 to 10 minutes. Stir in the pineapple and its juice, coconut, brown sugar, jerk seasoning, cinnamon, chili powder, red pepper flakes, salt and pepper. Reduce heat to low and simmer 15 minutes.
Bring a large pot of lightly salted water to a boil. Add pasta and cook until al dente, 8 to 10 minutes; drain. Toss chicken mixture with drained pasta.