Bergy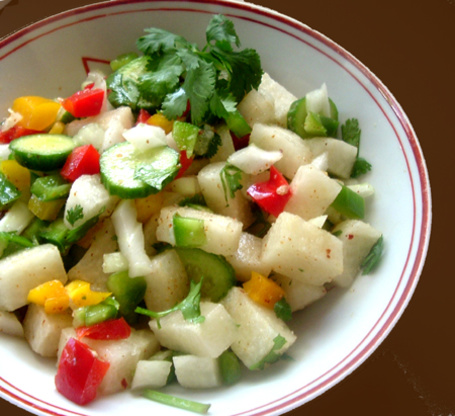 This is a take off from my other Jicama salad #8898 just a few additions to make it more colorful and a little different. It is a "do ahead" salad". It is so handy for company dinners and also busy day dinners. Make sure that your Jicama is very white inside and has no discolored spots outside-they should be a lovely smooth beige color. If you cannot find baby cukes use an English cuke, but remove the seeds. If you wish arrange this salad over fresh lettuce leaves. You may add some shrimp or chicken and serve this as a lunch salad

Made as per the recipe, & about the only thing I changed was to use a generous, rounded measure of the lime zest! We really enjoy jicama & vidalia onions, so this was a special treat! Thanks for sharing the recipe! [Made & reviewed in Healthy Choices ABC recipe tag]
In a large bowl mix together the jicama, cuke, onion, peppers.
Mix together the lime juice, zest, garlic & chili, gradually whisk in the oil, whisking continuously.
Pour dressing over the salad, cover & refrigerate for at least 1 hour & up to 6 hours.
To serve line salad bowl with lettuce, spoon in the jicama & serve.