I got this recipe from a message board. I have not tried yet, but am putting it here for safe keeping. It has a lot of possibilities. I plan on trying with sugar-free jelly and Splenda.
1⁄2 cup jelly, any flavor
1 egg white, unbeaten
2 tablespoons sugar
Directions
Combine all ingredients and a dash of salt in top of double boiler.
Cook over boiling water, beating constantly until stiff peaks form.
Remove from the heat. Beat until spreading consistency, about 2 minutes.
Frosts 2 (8 inch) layers or 24 cupcakes.
Most Helpful
1. Use an electric beater for mixing ingredients over double boiler. 2. Jelly taste is diminished. 3. Icing is sticky.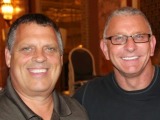 Since I wanted to make a cake and had no money for icing, this recipe was great! I still don't know what they meant by stirring until "stuff peaks form" but even still, it was good. I added an eighth tsp vanilla, an extra tbsp of jelly and an extra tbsp of sugar. The icing was sticky and on the runny side, so I drizzled it on top of the cake, and it was a big hit! I used half strawberry jelly and half white grape jelly which resulted in a sweet yet slightly tart flavor. Thanks for the recipe!

This frosting is amazing!! just like the meringue/marshmallow frosting but with custom flavours.