Jalapeno Cheesecake (Savory)
Tugar357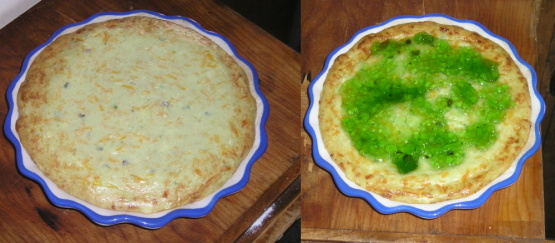 This delightful appetizer can also be made using mango chutney instead of the jalapeno jelly. Any pepper jelly will work with this recipe. Serve with water crackers.

An easy appetizer that is sure to wow guests. I have had this recipe for years and not tried. Not yours per se, but one exactly like this but half the ingredients. I used a medium jalapeno/lime jelly, and baked it off in a pie pan instead of a springform. A 6" springform pan will never hold all this recipe, the 9" pie pan barely did.

Due to the medium jelly, it was sweeter than I expected and not hot at all. It was very good.
Mix first four ingredients together with half of the jelly in a food processor or with an electric beater.
Pour mixture into greased 6- inch springform pan.
Bake at 350 degrees for 35 minutes.
Cool completely and remove from pan.
Heat remaining jelly and pour over top of cheesecake.