PJH7367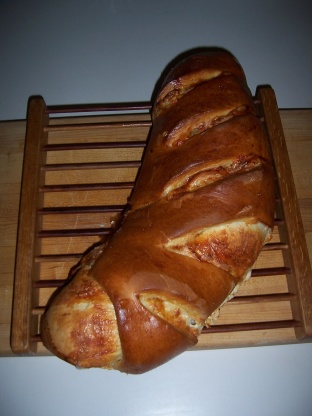 This is one of my favorite recipes of all time! A delicious cheesy bread, fantastic warm or cold! Make this once and you'll make it time and time again. A very easy and impressive bread!

I made this using the Rustic Italian Bread (#95086) like Marsha D. I made the dough in the bread machine and about 15 min. before it was supposed to be ready, the dough was trying to climb out of the bread maker! I rolled it out fairly thin using Parchment paper (I find this is great for rolling pastry, dough, etc. - doesn't need flour at all) then spread the dough with the butter with garlic cloves crushed up in it (2nd batch, I just used Garlic powder). Next came the black pepper, finally LOTS of cheese. (I make my own Parmesan, mozzarella and cheddar, so there is lots of cheese around). Rolled it up, left for about 30min to rise and baked. Looked beautiful and tastes wonderful. It's definitely a keeper!!
In a warm oven, let dough rise until double.
Combine cheeses and pepper and set mixture aside.
Roll dough into a 10 x 16 inch square.
Spread melted butter over entire surface of the dough square.
Sprinkle the cheese/pepper mixture over prepared dough and roll up beginning at the 16 inch side.
Fold ends under and place on greased cookie sheet with seam side down.
With a sharp knife cut about 3-4 slants diagonally across the top.
Plcae in a warm oven and let rise until double again.
Heat oven to 375°F and bake for 20-25 minutes or until golden brown and loaf sounds hollow when tapped.
Slice and enjoy!
Many people enjoy dipping this bread in red sauce.