Injected Chocolate Covered Strawberries With Grand Marnier
Marlitt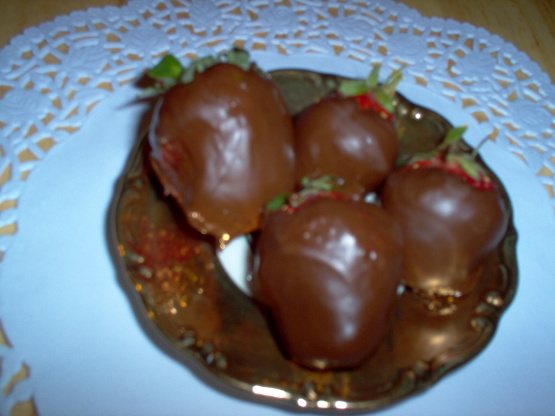 But it won't hurt! From the Junior League of Salt Lake City, Utah, from a collection of recipes cookbook called "Always in Season."
Out of this world! This must be the top recipe of the summer! The amount of chocolate cover would have been enough for lot more strawberries than 8, even big ones. I used about 1/8th of chocolate and oil for the 8 strawberries. Wouldn't cut down on the Grand mariner, though.
Fill a syringe with the Grand Marnier and inject it into the berries.
Melt the chocolate chips with the canola oil in a double boiler, stirring to blend well.
Pat berries dry and dip into the chocolate, coating evenly.
Place on parchment and chill for 30 minutes.