Ines' Portuguese Biscoitos
Snowbaby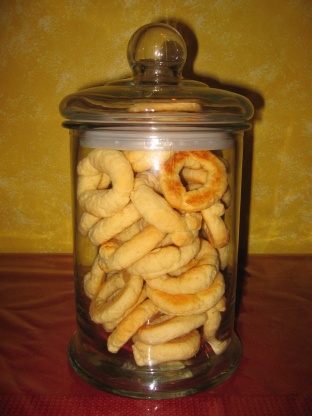 This is an easy Emeril Live recipe for little Portugese cookies that look mmm, mmm good! I haven't tried these yet, but I'm trying these soon!

The wonderful smell of Biscoitos fills the air in my home as I just pulled the last batch out of the oven.These are great tasting biscoitos however a lot fluffier texture then I've ever eaten. I am use to a more dense, crisp biscoitos. My Mother in law originally from Sao Miguel Portugal made these by using the same ingredients however only using 1 1/2 TB of BP. In addition i used a tsp of dough which I rolled into a ball then formed into rings. I did try your amount first of 2 TB of dough however they were huge. I reduced the amount to a tsp and baked for 10 minutes on parchment paper instead of greasing a cookie sheet. It yielded 50 biscoitos. My MIL would also add a 1/8 tsp of almond extract for a variation to this recipe. Thanks for posting it Krystal-Belle!
Preheat the oven to 350 degrees F.
In the bowl of an electric mixer fitted with the paddle attachment, combine the flour, sugar, salt, and baking powder and mix well. Add 3 of the eggs and mix until thoroughly combined. Add the butter slowly and blend until the mixture forms into a smooth dough that pulls away from the sides of the bowl.
Lightly grease 2 large cookie sheets. Working with 2 tablespoon portions of dough at a time, roll the dough with your hands against the counter to form snake-like lengths about 5 inches long and 3/4-inch thick. Bring the edges together and press to seal so that you have a small donut shape. Place the dough circles onto the prepared cookie sheets spaced about 1-inch apart. Mix remaining egg with remaining tablespoon of sugar to form a glaze. Brush the top of each cookie with some of the glaze. Bake for 20 to 22 minutes, or until the cookies are light golden brown on top. Cool completely, then store in an airtight container for up to 2 weeks. Serve with tea or coffee.