Indonesian Beef & Eggplant Curry
rpgaymer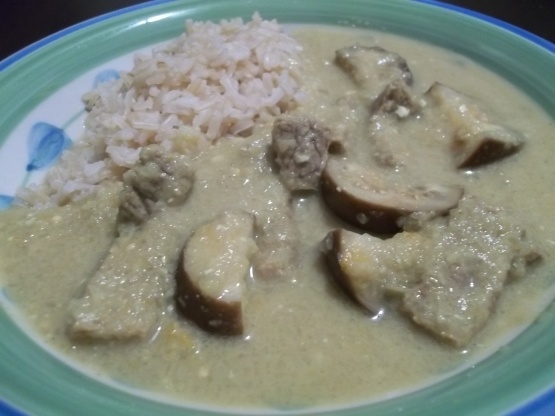 This is a hot & sour curry that's made from scratch, although it's not difficult to make. Once you have your curry paste ready, the rest of the cooking process is a breeze. The kaffir lime leaves are key here, although they are difficult to find as not even every Asian grocery store carries them. Unfortunately, there isn't a decent substitute, but these flavorful leaves are very much worth the search.
Using a mortar & pestle (or a food processor), grind the shallots, habanero peppers, ginger, garlic, turmeric, coriander, cumin and macadamia nuts into a paste.
Heat the oil in a wok or heavy pan over medium-high heat, then stir in the curry paste and fry until fragrant, about 1 minute. Add the beef, stirring to coat well with the paste, then add the coconut milk and sugar. Bring the liquid to a boil, then reduce the heat and simmer uncovered for 10 minutes.
Add the eggplant wedges and kaffir lime leaves, and cook gently for a further 10 minutes.
Remove the lime leaves, then stir in the lime juice and salt. Serve over brown rice.