Individual Cheesy Pizza Pot Pie / Pies
JOY1998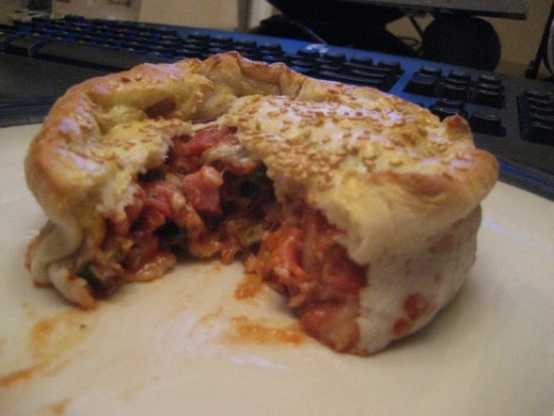 Fun, yet family-friendly individual pot pies. These are made with Pillsbury Grands biscuits and are easy to make, but make a great presentation! The ingredients for these pizza pot pies can be varied depending on your personal preferences.
1

cup cubed ham

2 -3

cups of diced pepperoni

3

cups shredded mixed swiss cheese or 3 cups mozzarella cheese
1 1⁄2 cups pizza sauce

1

cup of drained crushed pineapple

1

(8 count) can Pillsbury Grands refrigerated buttermilk biscuits

1

teaspoon italian seasoning (optional)

2

cups sliced mushrooms (optional)

1

cup of sliced green onion (optional)

1

egg

1

teaspoon sesame seeds (optional)
flour, as needed for rolling biscuits
Preheat oven to 350 degrees.
Stir fry mushrooms and green onions for several minutes in oil or butter.
Combine cooked mushrooms/green onions, ham, pepperoni, pizza sauce, Italian seasoning, pineapple and cheese in bowl.
Separate Pillsbury Grands in half. There should be a smaller top half and larger bottom.
Take the larger bottom and roll out into circle on a floured surface with a rolling pin to fit into a greased muffin tin or 6 oz custard cup. Make sure the biscuit round is large enough to overlap the tin.
Fill with meat and cheese mixture.
Take top of biscuit and flatten out enough to cover top.
Brush sides of biscuit top and bottom with beaten egg and pinch the top and bottom of the biscuits together.
Brush top of pot pie with beaten egg and sprinkle with sesame seeds.
Bake 20 to 25 minutes at 350 degrees or until crust in deep golden brown.
Let stand for 5 minutes before removing from muffin tin or custard cups.