Vegetable Pot Pie / Pies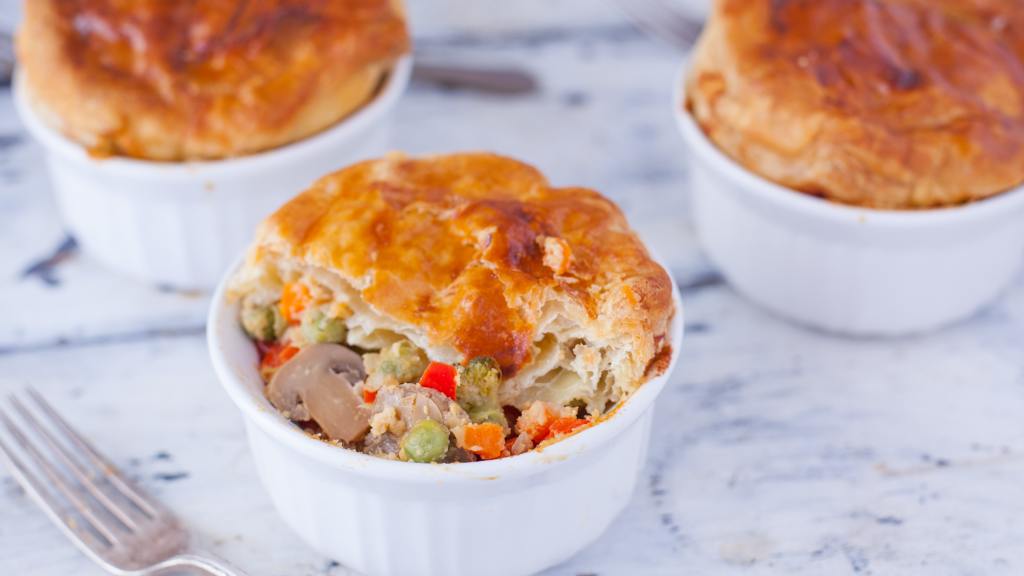 Ready In:

1hr 25mins

Ingredients:

15

Serves:

6
directions
Note: you will need 6 1 cup capacity ramekins for this recipe.
Preheat oven to 415 degrees.
Microwave the potato, carrot, and broccoli until just tender.
Spray a pan with vegetable cooking spray and heat over medium heat, cook the onion and the bell pepper until just softened, put in the same bowl with the microwaved vegetables and add the thawed peas.
Heat the butter in the pan and melt over medium heat, stir in the flour until absorbed to make a roux.
Gradually add in the milk, stirring constantly, bring to a boil and then turn down to a simmer until thick.
Add the cheese and egg yolks to the mixture and salt and pepper if desired.
Add the sauce to the vegetables and stir in the mushrooms.
Once the puff pastry has thawed out (make sure to read package directions) use one.
of the ramekins to outline six circles of puff pastry. The puff pastry should be cut large enough to fit over the edge of the ramekins.
Spray all of the ramekins with non-stick cooking spray and then fill them with the vegetable mixture.
Top each ramekin with the puff pastry, seal the edges, and cut two or three small slits in the top of the pastry to release steam.
Brush the tops of the pastry with the beaten egg.
Bake for a half hour until the pastry is shiny and golden.
Enjoy!