karen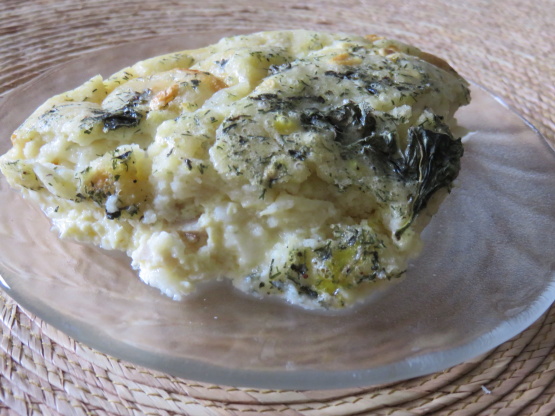 This is from an old cookbook called "Ladies in Pink", dated 2006. It was created by, and for, those who have battled breast cancer.

Top Review by karen
What a great baked egg dish. I have only tried the Impossible/Bisquick recipes as dinner casseroles, but this was perfect as quiche without a crust. You can easily shift the ingredients a bit like I did. I don't do bacon much at home so I subbed in some deli turkey and used Monterey jack cheese as I was out of cheddar. Also didn't have any dry mustard so left that out and added a little fresh basil on top. Yum!
Preheat oven to 400 degrees Fahrenheit.
Lightly grease an 8 inch square pan or a 9 inch pie plate.
Cook bacon until crisp; drain on paper towels; discard grease.
Sprinkle bacon, cheese and onion into pan.
Blend eggs, Bisquick, milk, pepper, dry mustard, dill weed and salt together until smooth.
Pour mixture over top of bacon mixture.
Bake until top is golden brown, and knife inserted comes out clean, about 30 minutes.
Let stand 5 minutes before serving.