Ilona's Super Almond, Super Chewy, Low Fat Super Cookies
Ilona 2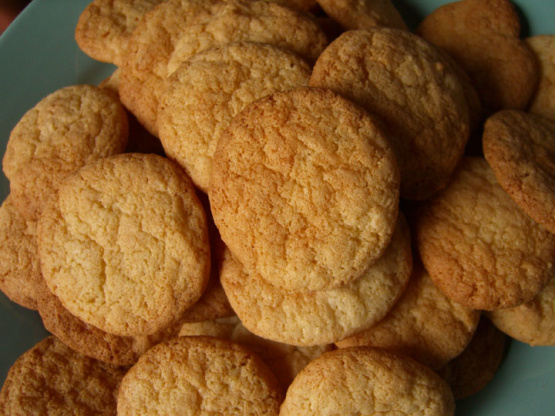 This is my own invention and one of my favorite cookies. It uses marzipan and is incredibly chewy and low in fat. It was an experiment turned delicious! I was craving almond flavor and whipped up some of these as I wanted something with lower fat. They are chewy and crispy. If you like them more crunchy, cook them 5 min longer. If you want it not quite so almond, omit the almond extract. **Note: I have only attempted this recipe in the UK so far. I'm not sure if that makes a difference? Flour type? Eggs etc.

The cookies tasted very good, but I messed up on them in a spectacular fashion. Not only did my nice round little blobs of dough expand to envelop the entire cookie sheet, but they also stuck to the sheet with glue-like tenacity. I guess that's what happens when a non-baker tries to bake. Self rising flour wasn't available, so I made my own with 1 Cup of flour, 1/2 tsp baking soda, 1/2 tsp baking powder, and 1/4 tsp salt. Is this where things went wrong? Maybe. I'm sure the recipe itself is blameless. The "cookies" themselves were very tasty. I do love almond! I will try again, and figure out where I went wrong. I'm sure more experienced bakers won't have any complaints about their cookies.
Warm marzipan in microwave for 30 seconds to soften it.
Cream marzipan and butter so they are mixed.
Add sugar; mix.
Mix in whole egg and egg whites.
Mix in vanilla and almond extracts.
Mix self-rising and regular flour together and add in thirds into the mix. At this point I hand mix as it gets thick and I don't want to overmix the flour.
Drop onto cookie sheet.
Bake at 375°F for 9-12 min for chewy cookies. Add 5 min for crunchy cookies.