Alia55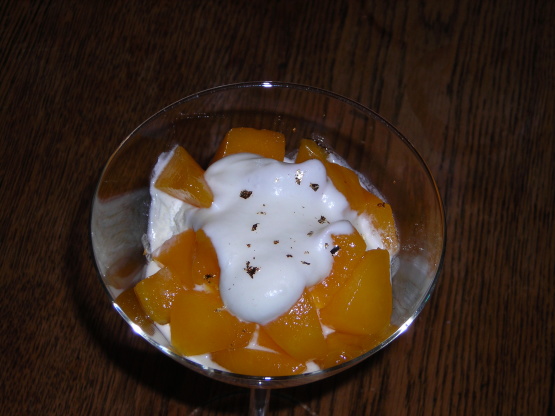 From the television show "Man-Made Food" I was waiting for our fresh Ontario peaches to try this recipe and oooooh, how I enjoyed this wonderful dessert! Topped each dessert dish with a few leaves from my chocolate mint plant and served with some tiny crisp sugar cookies... hmm, hmm good!
In a sauce pan combine water, sugar and ice wine.
Simmer over low heat and until the sugar has dissolved.
Cook syrup for 3 additional minutes, take off the heat and set aside until needed.
In a glass bowl, place peach halves and pour ice wine syrup on top and refrigerate to allow the flavors to mix.
Serve chilled in a small bowl and garnish with a drizzle of icing sugar.