Jostlori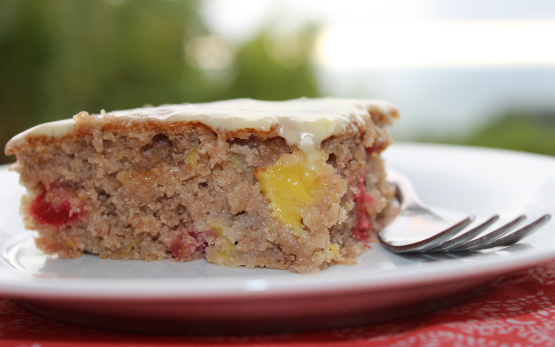 Moist fruit bars makes a lot I think. So make it for a large gathering or maybe a bake sale.

Mmmmm, delicious! These were extremely easy to make and I plan on using this recipe to teach little ones some cooking skills. Although the recipe title is "bars", I found this to be more cake-like, but it might have been because I halved the recipe and used a 9 inch square pan. So they are a bit thick for bars and I had to cook longer than the recipe called for. Still, since it's only two of us, half the recipe is the perfect size! I used a very ripe, fresh pineapple instead of canned. No nuts because I can't eat them. :-(. Reduced the sugar (its PLENTY sweet with all the fruit!!). And subbed baby-food applesauce for 1/3 the oil. Thanks for posting a keeper of a recipe - it's going straight into my All-Time-Favorites! Made for My 3 Chefs 2013.
Heat oven to 350°F; grease and flour 15x10x1-inch jelly roll pan.
Put flour into large bowl.
Combine all ingredients and stir until well blended.
Bake for 30 to 40 minutes until center of toothpick comes out clean.
For glaze: In small bowl combine all ingredients adding enough milk for desired consistency.
Spread and let cool completely.
Then cut into bars.