mliss29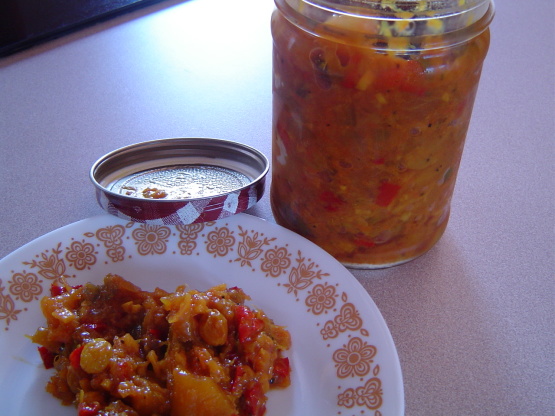 This is a great chutney and makes a large batch which is great for gift giving.

Disappointing. I ended up with a very acidic mixture and had to add another bag of sugar to make it edible. I am still not very happy with the flavour. It seems very sharp, lacking depth... not a chutney I am going to enjoy eating.
Grate peel of oranges and lemon. Remove and discard all white pith. Cut fruit into quarters (reserve juices) and chop into cubes, discarding seeds. Peel, core and coarsely chop apples. Transfer all fruit and juice to a large heavy dutch oven.
Add remaining ingredients and bring to simmer over medium-high heat. Reduce heat and continue simmering until mixture is thick, about 1 to 1 1/2 hours, stirring occasionally.
Ladle hot chutney into 6 clean, hot pint jars to 1/2-inch from top. Run plastic knife or spatula between chutney and jar to release any air bubbles. Clean rim and threads of jar with damp cloth. Seal with new, scalded, very hot lid. Repeat with remaining jars.
Transfer jars to gently simmering (180°F to 190F.) water bath and process for 10 minutes.
Let cool on rack. Test for seal. Store in cool dry place.