Hot Licks Chicken (Cooking Light)
teresas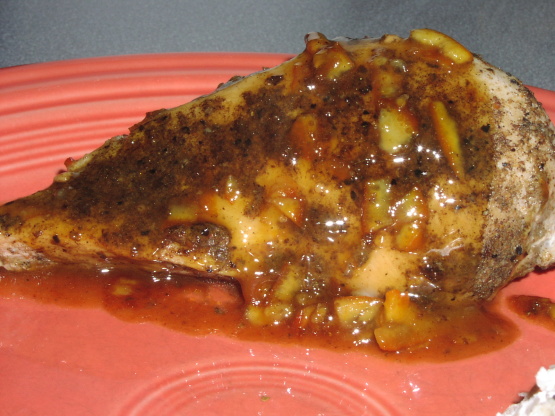 I have made this dish twice. The only change I made was to use 1/2 lemon curd and 1/2 apricot preserves. I served it at a dinner party and everyone loved it. It takes very little time to make and is so delicious.
Combine first 7 ingredients in a small bowl; stir well. Rub chicken with spice mixture; let stand 5 minutes.
Heat oil in a large nonstick skillet coated with cooking spray over medium-high heat. Add chicken; cook 1 minute on each side or until lightly browned. Add water and wine to skillet; cover, reduce heat, and simmer 6 minutes or until chicken is done. Remove chicken from skillet. Set aside; keep warm. Add lemon juice and 1/8 teaspoon salt to skillet. Bring to a boil; cook 4 minutes or until reduced to 3 tablespoons. Remove from heat; stir in marmalade. Spoon sauce over chicken.