Hot Layered Hero Sandwich
Prep 20 mins
Cook 15 mins
This sandwich makes a great meal while watching games on television. Combine it with some soup and you have a complete supper. You may use Creamy Honey-Mustard Sauce on Recipezaar as the sauce, which is yummy, or buy it in the store.
Directions
Cut bread in half; carefully hollow out part of the bottom and top of bread and discard this or give it to the birds.
Spread mustard on cut sides of bread.
On the bread bottom layer in the order given above EXCEPT for the lettuce; the lettuce goes on after it comes out of the oven.
Replace top and wrap in heavy-duty foil.
Place on baking sheet.
Bake at 450 degrees for 12-15 minutes or till heated through.
Unwrap and put the lettuce on top of the tomato layer.
Cut into wedges.
Reviews
Most Helpful
This was fantastic and the honey mustard recipe really made it! It was very filling, but with a different taste than the usual oil and vinegar. The combination of the two cheeses was also very nice, and the order of layering really helped to bring out the flavors of the many ingredients. Thanks for posting this one!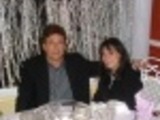 Excellent!!! This sandwich IS a hero at my house! We loved every bite and it's now headed to my favorites to be made again. I made them on large sub rolls, and it made 3, which was just what I needed. Thanks!
This sandwich was spectacular! We made homemade whole wheat rolls using Kittencal's Sub/Sandwich Buns recipe. This is a prizewinning sandwich if I ever saw one! Thanks Mimi. Mike