Hot Knots With Sweet Onion Dip
Brenda.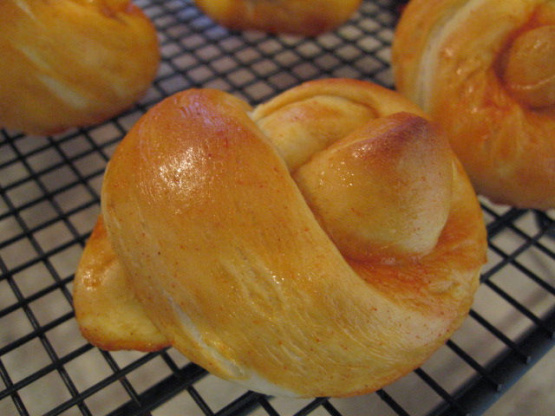 This party snack will disappear in moments! Spicy dough knots are fantastic on their own, but can be enhanced (and tamed) with sweet onion dip!

My friend Susie D recommended these to me and it just so happened I was making French Dinner Rolls recipe #421108 so I thought why not! I saved enough dough to make 9 good sized knots and I used Franks Red Hot Wings- Hot Buffalo Sauce. I'm sorry I didn't make the dip but I was thinking ranch would be a good dipper too. At first my DS and I were tentative, then we wanted just 1 more, then I caught him pulling one apart as he walked through the kitchen... lol they are addicting! Thanks for sharing a fun recipe. I was thinking pretzel dough that has gone through the water bath (they dry quickly) and then brushed with the sauce might be worth a try too.
1

lb store-bought refrigerated pizza dough (usually in the deli section)
1⁄2 cup buffalo wing sauce
1⁄4 cup brown sugar
1⁄2 cup sweet onion, dressing
3⁄4 cup sour cream
Preheat the oven to 400 degrees F.
Roll the pizza dough out on a floured work surface. Using a knife or pizza cutter, cut strips of dough that are approximate ¾ inch wide and 4 inches long.
With your hands, roll each strip on the floured surface until it's about 6 inches long. Then quickly tie into a loose knot. Place on a baking sheet and repeat with the rest of the dough.
Mix ½ cup of Hot Wing Sauce with ¼ cup of brown sugar. Brush the mixture over the dough knots, covering them completely. Bake for 10 minutes.
Meanwhile, mix the Sweet Onion Dressing with ¾ cup sour cream.
Serve the Hot Knots warm with the Sweet Onion Dip on the side!