Hot Chocolate New England Style
loof751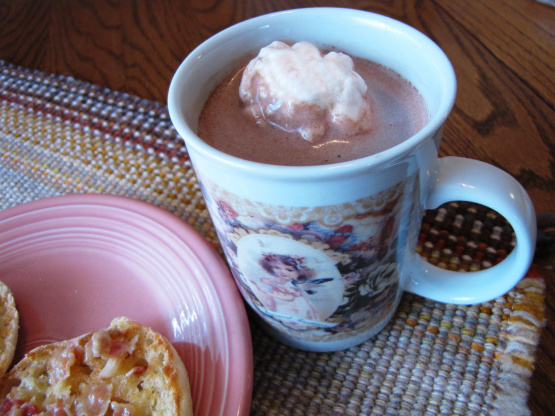 This rich cocoa sounded so good, that I had to post it here, so that I didn't lose the recipe. I can't wait to try this.
This was awesome!! I scaled it back to serve one and it was great on a cold, rainy day!! I found it to have the perfect balance of sweetness and chocolate flavor for my taste. I loved the added salt, maple syrup and melted marshmallow!!! Thanks for sharing the recipe. Made for Went to the Market Tag Game.
In a large pot, add sugar, cocoa, and salt.
Stir in the boiling water and butter, mix well and bring mixture to a rapid boil.
Mix the milk, cream, maple syrup and vanilla extract together.
Lower heat to simmering and slowly add the milk mixture to pot.
Now add 8 of the marshmallows and heat through, stirring occasionally until the marshmallows are all melted.
Pour into four warm mugs and top each mug with a marshmallow.