Annacia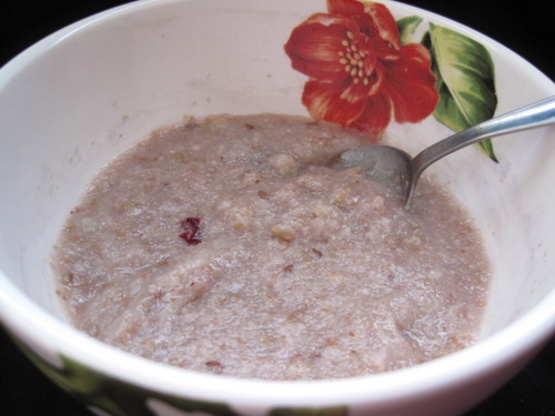 A variation of a traditional hot American breakfast, This recipe is for my very restricted special diet, lactose free, fat free, bland. Many people prefer more fat, such as bacon or butter or like milk and sugar in it. Good for you that you don't have to eat this! lol This is meant for good nutrition on a restricted diet, and not for any most pleasurable delight of the year award.

I truly thought that I would like this a lot more than I did. After 10 mins of cooking it never really cooked down and I had more of a thick soup consistency than oatmeal. I also found that I didn't deeply love the cornmeal graininess. Yes, it was softened but it was still like having sand in your cereal. The blueberries, raisins, cinnamon and vanilla were the best parts by far. I'm afraid that I didn't care for the thought of an egg on top of cereal soup either so skipped that. Made for Diabetic Awarness Month tag.
Pour water into a saucepan, slowly add the cereal while stirring. turn the heat onto medium-low and bring to a boil, stirring constantly.