Honeysuckle Blossom Pineapple Jelly
Rita1652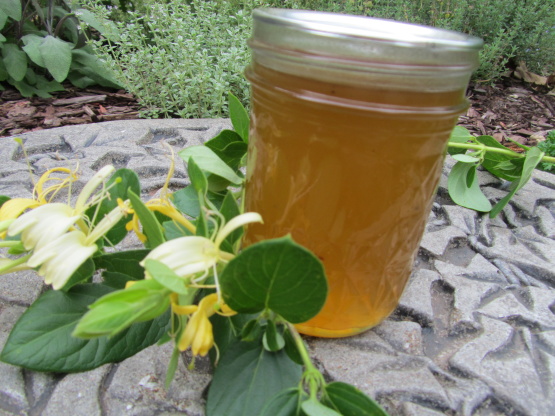 A delicious golden jelly that tastes a bit like honey with a hint of pineapples.I you enjoyed my dandelion jelly give this one a try!
4

cups fresh edible flowers, packed honeysuckle blossoms (no buds and no green parts)

4

cups boiling water

8

ounces pineapple juice, strained through a filter

3

tablespoons dry pectin

1

tablespoon bottled lemon juice

5

cups sugar
Pour boiling water over flowers and allow to steep at room temperature till cool then place in refrigerator for overnight.
Keep the mixture in the 'fridge and use it within one week.
Drain the liquid from the flowers using a coffee filter or cheese cloth. Measure 4 cups of the liquid, add to large pot with pineapple juice, pectin and lemon juice. Bring to a boil, then add sugar. Bring to a boil again, boil for a minute and a half to 2 minutes. Remove any skim on top.
Ladle immediately into hot, sanitized jars. Add caps and rings. Process in boiling water bath for 5 minutes, if desired.