VickyJ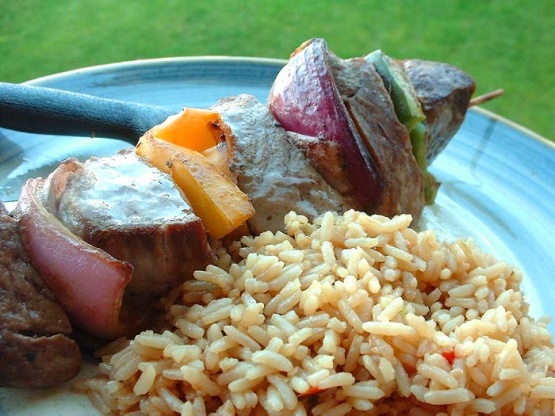 This is a great steak kebab recipe and very flavorful. This can be grilled, broiled or even baked. I like to serve this with rice and a tossed salad. You can change the vegetables to your liking.

I marinated the sirloin for most of the day & they had a nice teriyaki style flavor. Next time though I would reserve some of the marinade to brush on the skewers so the veggies had a touch of the same flavor. I skewered yellow squash, a bell pepper, purple onion, and baby eggplant. I prepared on a indoor foreman grill and served with Recipe #156318.
Combine marinade, pour over beef and stir to coat. Cover with plastic wrap and refrigerate 1-2 hours, stirring occasionally.
Remove beef and discard marinade. Using 4 10-inch metal skewers (or use wooden skewers that have been soaked in water for a couple hours), alternately thread beef and vegetables.
Broil or grill 2 inches from heat, turning 2 or 3 times until meat is cooked to 160° and vegetables are lightly browned, about 10 minutes.
This also can be baked at 350 for 45 min (ovens vary). Place skewered meat and vegies on a foil lined sheet pan and turn 3-4 times during baking time.