Rita1652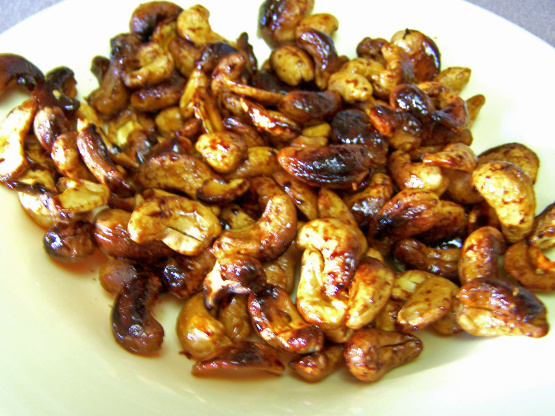 You can double or triple the recipe!

My husband loves honey roasted cashews so this is for him. It s a very tasty recipe, but a warning needs to be issued regarding how difficult it is to get the nuts off the cookie sheet if you let them cool first. I would suggest turning them onto a sheet of wax paper to let them cool, otherwise they are stuck like glue and crumble when you try to remove them. I put them back into a warm oven for 30 seconds to loosen them. thanks for sharing!
Set oven to 350 degrees.
In a heavy skillet over low heat, add in honey stir until warmed.
Add in nuts and salt; toss thoroughly.
Transfer to a baking sheet and bake for about 10-12 minutes, or until the nuts are a slightly darker shade of brown and the honey is almost hardened.
Allow to cool then store in an airtight container.